TrustonTap have won the National Impact Awards 2021 in recognition of the impact their innovative homecare business has on people's lives.
TrustonTap connects experienced carers directly with older people (and their families) to support them to live independently at home, avoiding the need for using a traditional care agency. Judges at the Impact Awards were particularly impressed by the way TrustonTap utilised technology to improve the wellbeing of both clients and carers.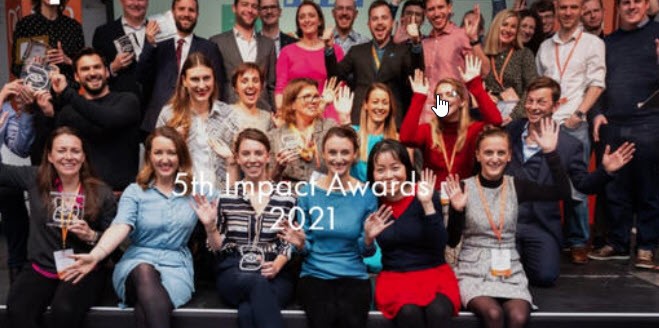 TrustonTap was founded six years ago in Oxford to help families find the right carers for their loved ones. Since then, the business has grown significantly across Oxfordshire, Berkshire and Buckinghamshire and has recently launched in Bedfordshire and Hertfordshire.
The business has c. 200 self-employed carers who have all been vetted, interviewed, reference-checked and DBS checked. The team has strict quality criteria and currently take on less than 5% of the people that apply. Carer profiles & photos are published to clients who are registered with TrustonTap
The technology deployed by TrustonTap transforms the experience of finding care, but the friendly team at TrustonTap is also key, which is reflected in the 450 five-star ratings the business has received from customers. 'Responsive, thorough, supportive and caring as ever. Excellent service,' says Ellen, a current customer.
Carers too enjoy being with TrustonTap. Anna says, 'Working through TrustonTap has been the best job I've ever had. I love building an ongoing relationship with the same clients – the best part of the job is the listening and support you can offer to people who might be struggling through times of poor health. It has been a really empowering job that has made me really happy. The team are always lightning fast at responding to emails and queries.'
By harnessing the latest technology and working in an innovative way, TrustonTap brings down the cost of care for families by up to 30% but without compromising the quality of care provided. The carers get better rewarded for all their hard work, earning up to 40% more than carers from traditional agencies. Fully inclusive hourly rates are £15-£21 per hour depending on experience and location.
If you are not familiar with TrustonTap, you can find out more about them on their website, www.trustontap.com.