Working at Dementia Oxfordshire means more. It's an environment where you can directly contribute to the lives of those living with dementia, their carers, and family. A rewarding workplace, with flexible working conditions based around your needs.
You can expect to see more job opportunities soon.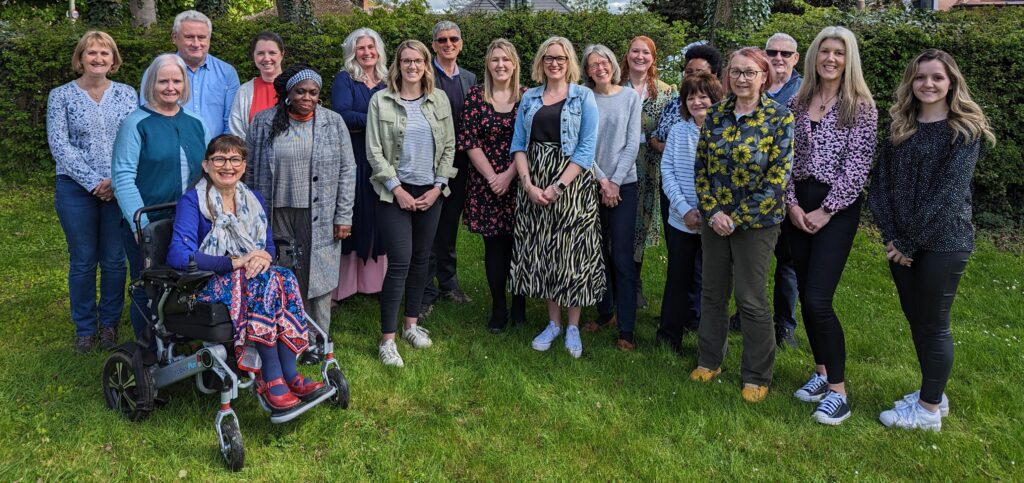 Dementia Oxfordshire is a free service provided by Age UK Oxfordshire. We provide information, advice and support to people living with dementia and their carers from the point of diagnosis. We do not discharge until end of life or a move to a care home. We support people with dementia to live as well as possible for as long as possible in the community, working to ensure people have a sense of meaning and purpose in their lives. We strive to provide a service that is evidence-based and person centred.
We are currently looking to expand our team due to an increased demand for our service, additional funding and the findings of our impact report. 
When you work with Dementia Oxfordshire and our Age UK Oxfordshire partners, you will be a part of a supportive and well-established team who have a strong reputation across the county. Additionally, we offer: 
5 weeks holiday plus bank holidays, increasing to 6 weeks after 5 years' service
Flexible working arrangements
Charity sick pay, increasing with length of service
Pension scheme
Health cash plan for staff member and up to 4 residing dependants under 24
24 hour Employee Assistance Program
Free car parking at Head office
Cycle to work scheme
I worked as a care home manager for 13 years. I went on to have a baby and my previous job just didn't suit me. Whereas, in this job, I can work from home. I can work hours around my daughter. I can nip out if I need to. The job in general was very attractive.
Amber – Dementia Adviser for South Oxfordshire
We are looking for people who are passionate about making a difference to people living with dementia, can work independently as well as with a wide range of colleagues across the third sector and healthcare settings. 
For the Dementia Adviser (DA) role we are ideally looking for someone with experience and lots of skills. However, for the right person we can offer a training and development programme, with mentoring support from an experienced DA, a structured induction, and a pathway to a level three qualification (as per the Regulated Qualifications Framework). 
I absolutely love my job. The fact that we get to build really good personal relationships with our clients, they have that one port of call, you get to really know them and what they need.
Kerry – Locality Manager for South Oxfordshire
Don't take our word for it, listen to our staff!
Emily and Tori are some of Dementia Oxfordshire's newest recruits. They sat down to tell us a little of what it's like to join the team.
What's your role at Dementia Oxfordshire and how long have you worked with us?
E: My name's Emily and I'm a Dementia Advisor at Dementia Oxfordshire. I'm in the City & East team. I started in September and I'm coming to the end of my fifth month.
T: I am Tori. I'm also a Dementia Adviser and I cover Banbury & West Oxfordshire.
So what attracted you to the role?
E: I have been a full-time mum for the last three years, so I wanted a job that was flexible, but also something I was passionate about. I worked in a care home for six years and I just loved caring for those with dementia and educating people about what dementia is.
T: I also used to work in care, then I worked in the local community hospital as part of the admin team. But I wanted something that was more person centred.
What do you enjoy about your job?
T: Probably the flexibility. Also, being able to go out to see people in their own homes. Actually seeing the difference that we make.
Did you settle in quickly?
T: Yes, definitely. I think that everybody is very welcoming. And they've answered all of my stupid questions!
E: Before I had even started I had loads of emails welcoming me. I could start putting names to faces and everyone was really friendly. I would say it was the most welcome I've ever felt in any job. My line manager has been great. If I have a silly question or something I'm not sure about, I just give her a quick message and she gets back to me straight away.
How did you find the induction process?
E: The induction process is really thorough. It goes through every area of the job role to make sure you're competent in it and they really support you.
As part of the induction process, you get given a few clients at a time so that you can get used to speaking to clients, how to approach them, and how best to word an email. I wrote a draft email because I wasn't sure what to put, and then my line manager checked it and suggested what could be tweaked. So it wasn't as daunting as I thought.
T: My line manager and my local team invited me to do home visits with their clients. They were quite interesting to go and see depending on what they needed advice and support on. I thought that was quite good because I was able to sit and watch in the background and see what sort of things worked for them.