As in previous years, Dementia Action Week is coming up this summer and is taking place from Monday 15th May to Sunday 21st May. This is an awareness campaign to encourage us all to find out more about dementia.
As part of this year's Dementia Action week, Dementia Oxfordshire is hosting three special events:
Dementia Information Day
Thursday 18th May, 10am – 3pm, Exeter Hall in Kidlington
A great opportunity to meet the Dementia Oxfordshire team, get information and advice on anything relating to dementia and enjoy some tea and cake.
Older Person Day 
Friday 19th May, 10am – 1pm, at the Corn Exchange in Witney 
Held with the support of local businesses and organisations, the day is an amazing chance to meet new people and take part in a 'Dementia Friends' session 💙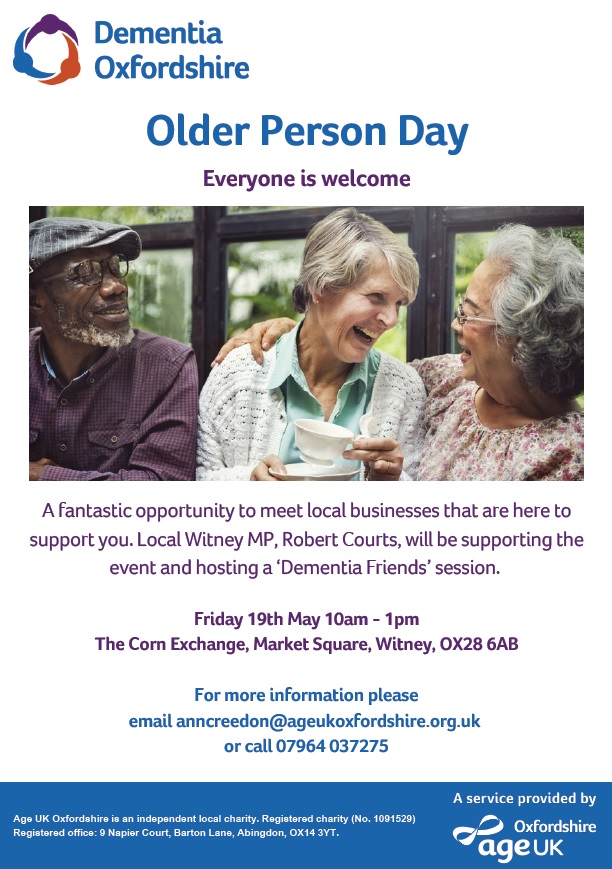 Online Sharing Session
Friday 19th May from 2pm – 3pm via Zoom  (more information on Events Page)
Specifically for people living with dementia to meet others living in a similar situation and discuss tips & advice!
For more information, please visit the session's page here: